Playing Dirty
This digital and outdoor exhibition explores the intersections of environmentalism, education, and fun with board games from the 1970s.
On view April 25, 2023–October 30, 2023
Building Façade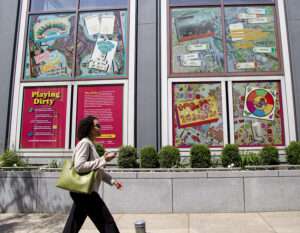 Sewage, smog, and species both invasive and endangered.
Playing Dirty explores the boom of environmentally themed board games, role-playing simulations, and learning tools in the 1970s, a time of increased environmental awareness among the public.
By the start of the decade, we'd heard about the dangers of pollutants in Rachel Carson's Silent Spring. On the news, we'd seen oil covering the beaches of Santa Barbara, California. And in Washington, the federal government established the Environmental Protection Agency.
The games on display show how those environmental concerns spread to dining room tables and classroom desks through the act of play.
Our outdoor Playing Dirty exhibition featured large-scale reproductions installed on the façade of the Institute's building at 315 Chestnut Street in Old City Philadelphia.
Read about Playing Dirty in Grid magazine >>
Curator: Sherri Sheu
Design: Nathanael Roesch