Samuel George Morton and the Afterlife of Scientific Racism in Philadelphia
Some of the deepest roots of scientific racism in the United States trace to the same city that birthed the nation's independence. In this lecture, anthropologist and historian Paul Wolff Mitchell will discuss how Philadelphia became a center for the formation of racial science in the middle of the 19th century through a focus on the skull collector Samuel George Morton.
Contextualizing Morton's cranial race science within the structures of settler-colonialism, enslavement, and medical racism across the United States, and within transatlantic discourses about race, brains, skulls, and human origins, points to the persistent legacies of scientific racism in and beyond Philadelphia today.
This Lunchtime Lecture is supported by the National Endowment for the Humanities as part of the Institute's Innate: How Science Invented the Myth of Race project.
 
About the Speaker
Paul Wolff Mitchell is an anthropologist and historian working on the histories and afterlives of scientific racism in museums, the anthropological collection of human remains, and theories of racial difference and human origins in the 18th and 19th centuries. He is a postdoctoral scholar at the University of Amsterdam with a project titled "Pressing Matter: Ownership, Value, and the Question of Colonial Heritage in Museums."
Paul has held fellowships from the Consortium for the History of Science, Technology, and Medicine; the McNeil Center for Early American Studies; the Library Company of Philadelphia; the Fulbright U.S. Program; the German Academic Exchange Service; and the Wenner-Gren Foundation. He has also been a research fellow with the Penn and Slavery Project and the Penn Program on Race, Science, and Society. His research has been covered in Discover, Forbes, The Guardian, and the New York Times.

About Innate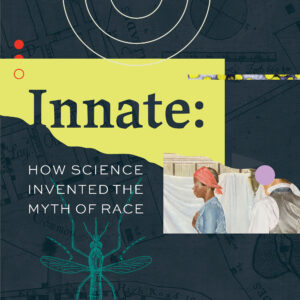 Innate: How Science Invented the Myth of Race is a podcast and magazine project that explores the historical roots and persistent legacies of racism in American science and medicine.
Published through Distillations, the Science History Institute's highly acclaimed digital content platform, the project examines the scientific origins of support for racist theories, practices, and policies.
Mitchell particpated in two Innate podcast episodes:
About the Series
Our virtual Lunchtime Lecture Series is for scholars and anyone curious about the history of science, technology, and medicine. Topics range from rigorous to entertaining, and help expand perceptions of the nature of science and how it's done.
This event description was edited for clarity.
More events
From Rachel Carson to ACT UP, explore how scientists and activists have shaped discovery and created change.
Join us in our museum EVERY SATURDAY for a family-friendly program that highlights strange and surprising stories from the history of science!
From plastics circularity in healthcare to changing modes of recycling, the 2023 T. T. Chao Symposium on Innovation will reveal new perspectives on plastics.