Storytelling as Pedagogy: Historical Biographies in STEM and Social Studies
Monday, July 15, 2024-Tuesday, July 16, 2024
Science History Institute
315 Chestnut Street
2024 Gordon Cain Conference
This conference will focus on the value and use of historical biographies in contemporary STEM and social studies education. Organized by Cain Conference Fellow Sibrina Collins, participants will explore how sharing the stories of diverse scientists can help young girls and people of color see themselves as valuable contributors to the field, historically and in the future.
Registration for this conference will open in the spring.
Conference Organizer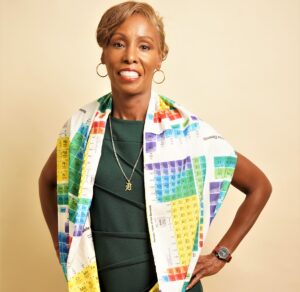 Sibrina N. Collins received a BA in chemistry with honors from Wayne State University and a PhD in inorganic chemistry from The Ohio State University. From July 2016 until January 2023 Collins served as founding executive director of the Marburger STEM Center on the campus of Lawrence Technological University. Beginning January 2023, she was appointed as Executive Director of STEM Education for the College of Arts and Sciences (CoAS) at Lawrence Tech. In 2018 she received the Real McCoy Award in Science from the Detroit Area Pre-College Engineering Program (DAPCEP) for her leadership and public engagement efforts in STEM (Science, Technology, Engineering and Mathematics) education. Her research efforts include inorganic chemistry, chemical education, history of chemistry, and addressing inclusion and equity in the STEM fields.
Collins is an active member of the American Chemical Society (ACS), serving as an Associate Member on the National Historic Chemical Landmark (NHCL) Subcommittee. She has published in ACS journals including Inorganic Chemistry, the Bulletin for the History of Chemistry, and the Journal of Chemical Education. She served as editor of the ACS Symposium Series Volume 1381 entitled African American Chemists: Academia, Industry and Social Entrepreneurship. She has authored a book chapter in the ACS Symposium Series Volume 1370 entitled "Inorganic Chemistry: Vibranium and Marvel Studios' Black Panther," and "Critical Mass Takes Courage: Diversity in the Chemical Sciences" published in the ACS Symposium Series Volume 1256. In 2020, Collins's career pathway was featured in the "Career Ladder" spotlight published by Chemical & Engineering News.
About the Gordon Cain Conference
The Gordon Cain Conference is a gathering of scholars in the history of science and related fields. Each conference is organized by an eminent scholar who works with staff to develop a theme of broad contemporary relevance. Centered on a topic chosen by the conference organizer, the conference consists of an evening public lecture, a symposium, and a collected volume. It is hosted by the Arnold and Mabel Beckman Center for the History of Chemistry and supported by a generous gift from Gordon Cain.
---
Featured Image: Photograph of Dr. Bettye Washington Greene (1935-1995), Dow Chemical Company.
More events
From Rachel Carson to ACT UP, explore how scientists and activists have shaped discovery and created change.
Join us in our museum EVERY SATURDAY for a family-friendly program that highlights strange and surprising stories from the history of science!
From plastics circularity in healthcare to changing modes of recycling, the 2023 T. T. Chao Symposium on Innovation will reveal new perspectives on plastics.