Reatha Clark King grew up in the segregated South. While being forced to leave her native Georgia to pursue a graduate education might not sound positive, she takes the optimistic view. "Maybe," she says, "it was one of the best things the state of Georgia ever did for me." King is one of the first African American professional women chemists, and attributes her success as a senior research chemist, president of a university, and head of a philanthropic foundation to self-confidence and a willingness to make her own way.
Born in 1938, the middle of three girls, King was recognized early as exceptionally bright. She tells interviewer Jeannette Brown in her 2005 oral history that while her scholarly achievements made the community proud, the label only made King more conscious of her distinguished status and its accompanying pressures. Throughout her school years King's teachers encouraged her to study the sciences. These subjects intrigued her since they were "more challenging than [the] other subjects and the teachers seemed so pleased that girls could do sciences."
In her senior year a recruiter for Clark College in Atlanta came to Moultrie, where King's family was then living, seeking out the best students. He found King and offered her a full tuition scholarship at the historically black college. Initially, she majored in home economics, a suitable subject at that time for a young woman, but a chemistry class in her first year overturned her plans. "I just learned how exciting the study of chemistry could be," King says. "I fell in love with the laboratory." Then and there she decided to be a research chemist. Her adviser, Alfred Spriggs, encouraged her, suggesting she major in chemistry and then apply to a PhD program.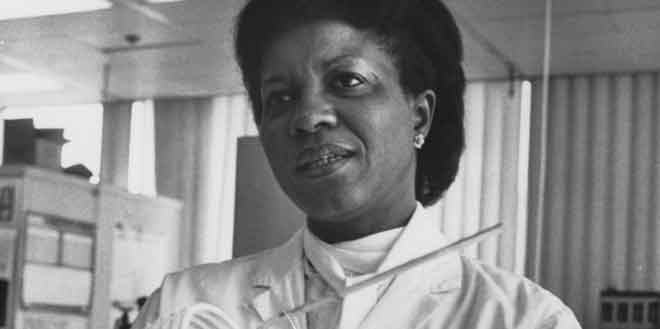 Spriggs also suggested she apply for a Woodrow Wilson Fellowship to fund her graduate education. She did so, listing the University of Chicago as her first-choice school. She won the fellowship and was accepted at Chicago. King started her graduate studies in 1958, and the change from Atlanta was dramatic. The city, the school, the students, the lab equipment—everything was more sophisticated. Her graduate counselor told her the day she arrived that at Chicago she was just one of many smart students, no longer a big fish in a small pond. Nevertheless, King remembers it as "a beautiful challenge, a wonderful challenge . . . because it seemed like a gateway to the world was opened." She completed her PhD in thermochemistry in 1963, under the direction of O. J. Kleppa. While at Chicago she met and married N. Judge King, and after her graduation they moved to Washington, D.C., where he began working toward his PhD in chemistry at Howard University.
King took a post at the National Bureau of Standards, working on materials science and high-temperature chemistry with George Armstrong, director of the calorimetry laboratory in the heat division. She soon headed a project to determine the heat of formation of oxygen difluoride, a potential rocket-fuel component of interest to the National Aeronautics and Space Administration. She published several articles, winning accolades and an in-house award for her work. She also gave birth to two sons during that time. In 1968, in search of more flexibility and family time King decided to pursue a job in academia. Her husband had just accepted a teaching position in New York City, and King applied for a post at York College in Queens.
At York, King advanced steadily, moving from assistant to associate professor of chemistry, then to associate dean for natural sciences and mathematics, and finally to associate dean for academic affairs. Still, she managed to continue her chemistry research program and remembers with fondness a number of her students who went on to excel in chemistry research posts. Under her watch the York science departments grew: she started both computer-science and health-sciences programs. In 1977 Metropolitan State University in Minneapolis chose King as their president. She and her family moved to Minnesota, where King strengthened the links between her school and the community while increasing both enrollment and graduation numbers. Finally, in 1988 she became president of the General Mills Foundation, a philanthropic organization.
These successes make King's life sound remarkably free from struggle, but it was not. In the 1960s race, gender, marital status, children—these "elephants in the room," as King calls them—were ever-present and often seen by others as impediments for her to overcome. Yet King read things differently. "I did not see these people, as I came along, as being so much against me," she explains, "as much as I saw them not having the confidence in me that I deserved."