Paula Hammond
A pioneer in nanotechnology, Hammond is the head of the MIT Department of Chemical Engineering, cofounder of MIT's Institute for Soldier Nanotechnology, and a member of MIT's Koch Institute for Integrative Cancer Research.
Paula Hammond is in pursuit of the invisible. In her lab at the Massachusetts Institute of Technology (MIT) she creates technologies so small that you cannot see them with most microscopes—that is, until they save a soldier's life on the battlefield or illuminate light bulbs using stored solar power.
A Pioneer in Nanotechnology
Chemistry captured Hammond's imagination when she was 15. She had planned to be a writer, but her favorite high-school teacher turned out to be her chemistry teacher, who piqued her curiosity by explaining how two elements could be combined to create an entirely new substance. Hammond went on to excel in chemistry at MIT, one of the most rigorous scientific universities in the world, at a time when women still made up only one-fifth of the student body and the proportion of students of color was even smaller.
She built on her fascination with new materials by studying nanotechnology—the creation of technologies that work at the molecular or atomic level. She has found polymers that increase the amount of power held by solar cells and has created materials that reorganize their own molecules.
Using Technology to Save Lives
In 2002 Hammond (b. 1963) cofounded MIT's Institute for Soldier Nanotechnology, where she and her partners use their scientific know-how to make our troops safer on the ground. One of her lab's inventions is a spray coating that helps blood clot almost instantly, a technology that could save thousands of lives and limbs on the battlefield every year.
Hammond is the David H. Koch Chair Professor of Engineering at MIT and is also a member of MIT's Koch Institute for Integrative Cancer Research. She has created polymers for revolutionary drug-delivery systems: chemotherapy drugs are delivered through nanoparticles disguised as water molecules so they can "sneak" past our immune system and lodge in tumor tissues to do their work. In 2013 Hammond cofounded LayerBio, a biotechnology company developing novel drug-delivery products for use in areas as diverse as ophthalmology, wound care, and tendon repair.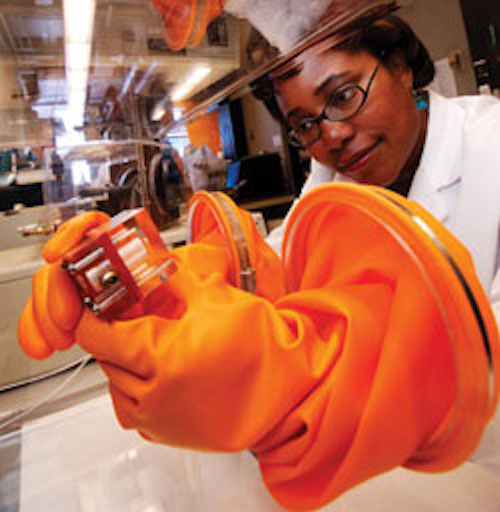 Honors and Achievements
She received her SB in chemical engineering from MIT in 1984, her MS from Georgia Tech in 1988, and her PhD from MIT in 1993. In 1994 she was awarded the National Science Foundation (NSF) Postdoctoral Fellowship in Chemistry while performing research at Harvard University as a member of George Whitesides's research group.
She has also received the Percy Julian Award, the NSF Career Award, the EPA Early Career Award, the DuPont Young Faculty Award, and the 3M Innovation Fund Award, among many other honors. In 2010 the Harvard Foundation named Hammond Scientist of the Year, and in 2015 she was appointed head of MIT's Department of Chemical Engineering—the first woman and the first person of color to hold that post.
Hammond serves as an associate editor of the American Chemical Society journal ACS Nano. She has published over 250 scientific papers and holds over 20 patents based on her research at MIT. She has been named a fellow of the National Academy of Sciences, the National Academy of Engineering, the National Academy of Medicine, the American Institute of Chemical Engineers, and the American Academy of Arts and Sciences, among others.
Featured image: Paula Hammond in her lab at MIT. Courtesy of Paula Hammond.