Biotechnology Heritage Award
The Biotechnology Heritage Award honors extraordinary individuals whose work in biotechnology is helping to heal, fuel, and feed the world through discovery, innovation, commercialization, or public understanding.
First bestowed in 1999, the award is given annually during the BIO International Convention. The Science History Institute is proud to present this award alongside the Biotechnology Innovation Organization (BIO), which represents more than 1,200 biotech companies, academic institutions, state biotechnology centers, and related organizations across the United States and in more than 30 other nations.
2023 Awardees: Stéphane Bancel and John Maraganore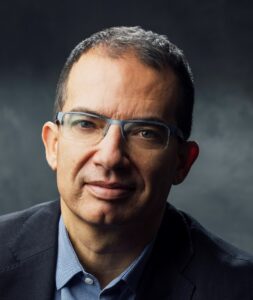 Stéphane Bancel has served as Moderna's chief executive officer since October 2011 and as a member of Moderna's board of directors since March 2011. Before joining the company, Bancel served for five years as chief executive officer of the French diagnostics company bioMérieux SA.
From July 2000 to March 2006, he served in various roles at Eli Lilly and Company, including as managing director, Belgium, and as executive director, global manufacturing strategy and supply chain. Prior to Lilly, Bancel served as Asia-Pacific sales and marketing director for bioMérieux.
Bancel currently serves on the board of directors of Indigo and is a venture partner at Flagship Pioneering. He holds a master of engineering degree from École Centrale Paris, a master of science in chemical engineering from the University of Minnesota, and an MBA from Harvard Business School.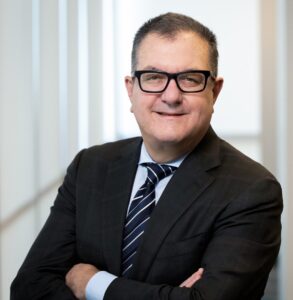 John Maraganore served as the founding CEO and a director of Alnylam from 2002 to 2021, where he built and led the company from early platform research on RNA interference through global approval and commercialization of the first four RNAi therapeutic medicines, ONPATTRO®, GIVLAARI®, OXLUMO®, and Leqvio®. The fifth RNAi therapeutic, AMVUTTRA®, was approved in mid-2022. At Alnylam, he also led the company's value creation strategy, building over $25B in market capitalization and forming over 20 major pharmaceutical alliances. He continues to serve on the Alnylam Scientific Advisory Board.
Prior to Alnylam, he was at Millennium Pharmaceuticals, Inc., where he was responsible for the company's product franchises in oncology and cardiovascular, inflammatory, and metabolic diseases, in addition to leadership in M&A, strategy, and biotherapeutics. Before Millennium, he held scientific and business roles at Biogen, Inc., where he invented and led the discovery and development of ANGIOMAX® (bivalirudin) for injection. Previously, he was a scientist at ZymoGenetics, Inc. and the Upjohn Company.
Maraganore is currently a venture partner at ARCH Venture Partners, a venture advisor at Atlas Ventures, an executive partner at RTW Investments, a senior advisor for Blackstone Life Sciences, and an advisor for M28. He is also a member of the board of directors of a number of public and private companies, including Agios Pharmaceuticals, Beam Therapeutics, Kymera Therapeutics, ProKidney Corp., Takeda Pharmaceuticals, Aerium Therapeutics, Aera Therapeutics, Aitia, Hemab Therapeutics, Orbital Therapeutics, and Versanis Bio. As the principal of JMM Innovation, LLC, he serves as a strategic advisor to a number of innovative biotechnology companies, including mentorship of CEOs in their mission to advance science and innovation for patients.
Maraganore received his BA, MS, and PhD in biochemistry and molecular biology at the University of Chicago.
Winners of the Biotechnology Heritage Award
About the Sponsor
The Biotechnology Innovation Organization (BIO) is the world's largest trade association representing biotechnology companies, academic institutions, state biotechnology centers, and related organizations across the United States and in more than 30 other nations. BIO members are involved in the research and development of innovative healthcare, agricultural, industrial, and environmental biotechnology products. BIO also produces the BIO International Convention, the world's largest gathering of the biotechnology industry, along with industry-leading investor and partnering meetings held around the world.